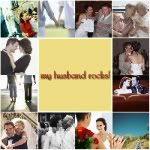 This week the inspiration for My Husband Rocks is a questionnaire....some questions were easier than others to answer and some were harder. Some answers I'm not sure I want to share!! But I will.
1. Where did you meet?
We met on a blind date, set up by our friends.
2. How long did you date before you were married?
We dated for 4 years before we married. And by 'dated', I mean lived together (to be totally honest...)
3. What does he do that surprises you?
watches a girlie movie with me when I know he'd rather be watching Ultimate Fighting. It surprises me because it only happens out of the blue when I least expect it, then doesn't happen again for a long, long time. That's what makes it so sweet!
4. What is your favorite quality of his?
Definately his gentleness. He has a gentle soul.
5. What is your favorite feature of his?
His striking blue eyes, and his smile. His eyes draw me in, and his smile pales the sun.
6. Does he have a nickname for you?
yes, he sure does. :)
7. What is his favorite food?
meat and potatoes.
8. What is his favorite sport?
Hockey. Specifically the NHL.
9. When and where was your first kiss?
it was in a crowded pub, but we might have been the only 2 people in there
10. What do you like to do together?
watch great movies, watch people, and talk about our kids (in no particular order). Before we had kids, our favorite thing to do was take last minute, all night drives to visit his family one province over. It was amazing to just pack a bag and go, then drive through the mountains all night.
11. Do you have any children?
yes, we have 2 terrific little boys
12. Does he have a hidden talent?
I believe so; I tasted a delicious lasagna that he made, and if I knew he could cook I would have handed him that job a LONG time ago!!
13. Who said "I love you" first?
I said it first.
14. What is his favorite type of music?
He likes rock, especially 80's & 90's.
15. What do you admire most about him?
The thing I admire most about him is his work ethic. And his honesty.
16. Do you think he will read this?
he might read it eventually....
So there it is... questions answered. Thinking of his faves is bringing a smile to my face!! I love this man so much. He is my partner, my best friend, my confidant, and I wouldn't trade him for anything.