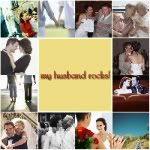 I saw this on another blog, and love the idea. It's fantastic!! It's all about focusing on the little, great things our spouse does instead of keeping track of the things they don't do. I believe in the greatness of marriage, and I love being married. It may not always be easy, or perfect, or the stuff dreams are made of, but concentrating on the good stuff and building up our spouses can make marriage wonderful.
Today my husband rocks because he plays with our boys. While getting bottles ready for bedtime, I could hear laughter coming from the livingroom! The boys were in peals of laughter and my husband was smack in the middle of it. That warms my heart, hearing the three of them play together, and it makes my day. Even though my hubby might be tired from a long day at work, he always makes time at the end of it to play with the boys. I love him for it.
It never fails if I need a moment to myself after a long day, my husband is there and steps in to take care of the boys. When those moments come where I need to back off and cool it, he is right there to carry on where I left off. He really is my partner, my friend, my confidant; he is my right hand. I really don't think I could've made it through the past year without him by my side!! Thus: my husband ROCKS!!!!
If you want to see where I got this from, check out Webbmania in my bloglist...it's great!!