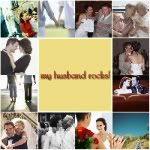 Is it Friday already?? Haha, kidding. This week there isn't any amazing incident that stands out, it was just a regular week. My husband does, however, ROCK!! He rocks because he NEVER complains. I'm not kidding. I complain about everything, from a sore back to a busy day. I don't think of it as complaining, of course, but that's what it is. Hubby never does this. The only way I know he has a sore shoulder, for example, is if I catch him rolling it and giving it a quick rub.
My husband plays in a pool league and loves every minute. He tries every week to improve his game, and tracks points and the teammates' accomplishments. This year he is doing quite well, and has a goal to do even better. This past wednesday, his pool night, he had to work late. Very late. He pulled a 20 hr shift! Did he complain about the hours? No. Did he complain about the lack of sleep? No. He didn't even complain about missing his pool night! The only explanation he gave was that he had to let the other teammates catch up to him. What a guy!
This is one area I need much improvement in, and I try to take a page out of his book. He is so easy going, never complains or dwells on disappointments. I love that about him; and it is one of the MANY reasons why I will never let him go!!!!
As for next wednesday...he will be there with bells on, doing his best to win every game. Even though I won't be there, I will be cheering him on.